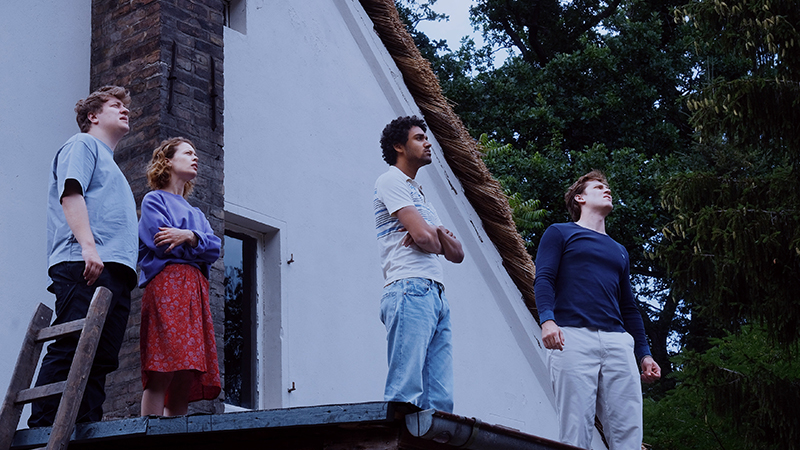 German Films at SFF 70
For 70 years, Sydney Film Festival has presented extraordinary cinema from around the world. We look back on the history - and present - of excellent German films at SFF!
For 70 years, Sydney Film Festival has inspired generations of film-lovers and filmmakers, curating ground-breaking programs of the most remarkable films from all over the globe. The 2023 Festival program features an exceptional selection of films, showcasing the illustrious talent of filmmaking – established and emerging alike –­ that continues advance the art of film worldwide. This year's program includes a dynamic selection of films from some of the most significant architects of German cinema, and the burgeoning talent that inherited their legacy, proving the most compelling cinema from Germany is not just in its past but is also yet to come.
From one of the foremost pioneers of German cinema, Wim Wenders' Japan-set Perfect Days is a gentle, deeply moving and poetic reflection on the beauty to be found in the everyday, straight from Cannes.
Fresh off their Berlinale 2023 wins , the 2023 program includes two films directed by Angela Schanelec and Christian Petzold, two pivotal figures in German film history.
In the 1990s a new wave of German directors emerged from the rubble of the recently toppled Berlin Wall, propelling a counter-culture striving to go beyond commercial filmmaking standards in order to re-envision the art of filmmaking in Germany. Dubbed the Berlin School, the three founders of the movement, Thomas Arslan, Christian Petzold, and Angela Schanelec, have made a lasting impact on German cinema in their dedication to their craft and their vision of the possibilities of German cinema. Their works rekindled international interest in German cinema, igniting a renaissance of innovative German filmmaking that continues today.
Hot off its Silver Bear Grand Jury Prize win in Berlin, Christian Petzold's Afire, a contender in SFF's Official Competition, is a tragicomic romp about four young people trapped in an idyllic seaside home for the summer as a forest fire draws near.
In Music, winner of the 2023 Berlinale Silver Bear for Best Screenplay, Angela Schanelec deconstructs the myth of Oedipus and rearranges it into a song of her own. In true Schanelec fashion, the story is told elliptically, in an austere but sensuous manner and this contemporary rendering of the familiar tragedy fittingly starts in the mountains of Greece, where a baby boy is rescued by a local paramedic who, together with his wife, adopts him and names him Jon. The couple raise him as their own, until an incident at age 20 again changes the course of Jon's life.
In continuation of the progression of German filmmaking begun by the Berlin School, contemporary German cinema shows the new wave of diaspora-Germans from ethnic bac dealing with characters driven by displacement through migration, diaspora or exile, Blending the cinematic and cultural traditions of Germany and their countries of origin, these films are accented by themes of rootlessness, underscoring the diasporic experience of living between worlds. Now one of Germany's most respected and well-known directors, Fatih Akin's Head-On (SFF 2004) became the first German film to win the Golden Bear at the International Film Festival in Berlin in almost two decades ­– as well as the European Film Award for Best Film ­– and he is still the last German filmmaker to win the top award in Berlin.
In Rhinegold, Turkish-German director Fatih Akin (Head-On SFF 2004; In the Fade, SFF 2017) tells the extraordinary true life story of Kurdish refugee-turned-gangster-turned-German rap star Giwar 'Xatar' Hajabi. But in a career dotted with Cannes, Venice and Berlinale award-winners including Head-On, Soul Kitchen and The Edge of Heaven – the second German film production to compete at the Cannes Film Festival since 1993, winning Best Screenplay – Rhinegold is Akin's biggest box office hit. Executed with all the style, swagger, humour and intellectual smarts that are found it in its subject, this amazing-but-true biopic soars from the start, with Giwar Hajabi born in a cave during the Iranian Revolution. What follows is an astonishing story that takes Giwar to Germany as a refugee who later becomes a gangster wanted for crimes including a brazen gold heist.
Continuing the wave of German films by diasporic filmmakers, Milena Aboyan's directorial debut Elaha, selected for Berlinale 2023, follows a young Kurdish-German woman on a journey to restore her virginity before her wedding. In her first feature film, Director Milena Aboyan ratchets up the tension, while depicting her young protagonist's struggle for sexual self-determination with heart-rending grace.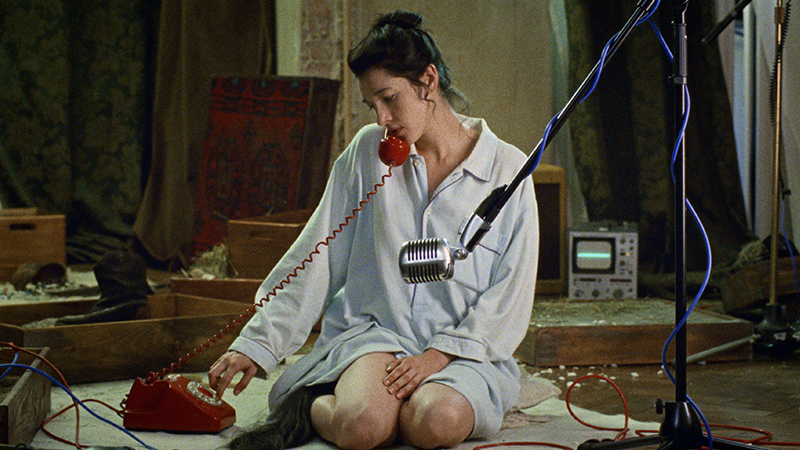 Ann Oren's astonishing debut Piaffe harkens back to the earliest examples of moving image works with the story of an introverted German Foley artist on a transformative sexual journey with a spot of horseplay.  Ethereal and mystifying, Oren's experimental film expands on her visual art practice of performing fantasies with a celebration of cinema through the film's exploration of Foley artistry. In an interview on the film's horse motif, Oren said: "The horse brings to mind Eadweard Muybridge's experiments with horses in motion, Therefore it is the animal most associated with the origins of cinema." Oren's aesthetics, coupled with Carlos Vasquez's 16mm cinematography, makes this imaginative gem a sensuous feast for the eyes and ears.
In Total Trust, Filmmaker Jialing Zhang's (One Child Nation, SFF 2019) delivers an unsettling depiction of state surveillance in China. The film follows three stories of ubiquitous surveillance and control: a human rights lawyer who's been imprisoned for just doing his job; an independent journalist whose activities are beginning to attract police attention; and a lawyer who's been released from prison but finds his activities are strictly curtailed, Many of the film's crew are also listed as 'anonymous' – driving home the sinister nature of state surveillance.
The legacies of the past and present reverberate into the future in the Festival's eclectic line-up of German co-productions. Sira, winner of the 2023 Berlinale Panorama Audience Award, is a Burkina Faso revenge saga, where Sira (Nafissatou Cissé) a young Fulani Muslim woman from a nomadic family, seeks retribution after surviving a terrorist kidnapping. Set in the Sahel region of Africa, Director Apolline Traoré  introducing the film's breathtaking location with strikingly in vibrant colour against the arid orange dunes. The muilt-award-winning  Autobiography, the first feature from Indonesian filmmaker Makbul Mubarak delves into the depths of corruption and violence – one of the countless films interrogating social dynamics by focusing on labourers as the principal characters– in this year's program and was the recipient of the FIPRESCI prize at Venice 2022.
From Sundance 2023, Sorcery, is a story of anticolonial justice set in 1800s Chile, where a 13-year-old Indigenous girl seeks ancestral retribution for the murder of her father at the hands of German settlers. The aftermaths of colonialism echoes through generations in Omen (Cannes Un Certain Regard), where a man accused of sorcery, banished from Congo and sent to relatives in Belgium returns fifteen years later to the city of Lubumbashi to reconcile with his family, bearing a cash offering.
Richard E. Grant, Julie Delpy and Daryl McCormack shine in The Lesson, a thriller in which a young writer takes a job tutoring the son of a haughty literary giant. Tatiana Huezo's poetic documentary The Echo offers a lyrical portrait of a rural Mexican village by the director of Cannes winner Prayers for the Stolen (SFF 2021). Selcun Ergun's debut feature Snow and the Bear follows a young nurse embarking on a new assignment in a small Turkish village who becomes embroiled in mysteries that lie beneath the snow.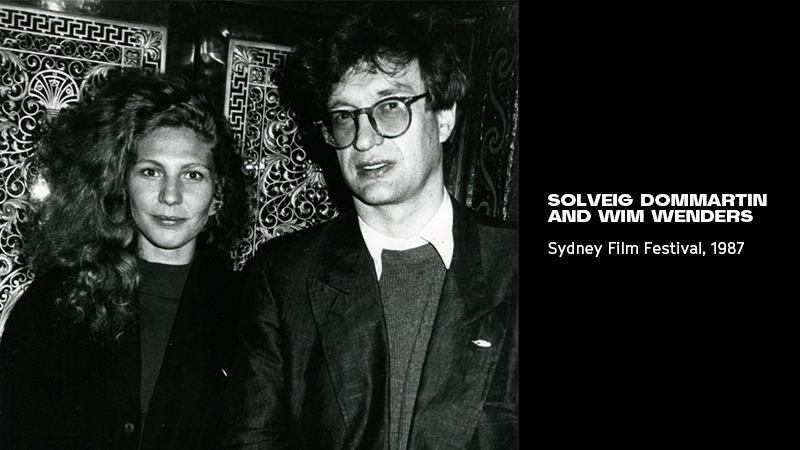 HISTORY OF SFF AND GERMAN CINEMA
For 70 years, Sydney Film Festival has been privileged to capture and embody the global filmic zeitgeists, presenting a rich tapestry of stories that reflect our shared desire to understand the world we live in. Now in its 70th year, Sydney Film Festival is proud to celebrate look back on its history of programming German cinema over the last seven decades. The history of Sydney Film Festival is the history of cinema, and the development of German film culture over the last 50 years – in all its turbulence, from re-emergence and decline to re-emergence once again – is mapped in records of the Festival's programs over the last 70 years.
Although film festivals are now held all over the world, SFF was one of the first; a locally inspired event created to introduce the public to other worlds through otherwise inaccessible films and bring Sydney's cinephiles together through a shared love of cinema, in an environment where they could exchange ideas. People from all walks of life were attracted to the Festival, intrigued by the promise of a festival offering something other than mainstream Hollywood cinema.
In the early 1950s, there were few films showing anything but mainstream British and American films in Australia. As an art form, cinema spoke directly to a post-war society with a prevailing interest in self- education and a connection to a wider global community. Non-mainstream films, particularly international films, were only viewed through screenings held by film societies, which were, due to increasing public interest in cinema, steadily increasing in membership.
For many subscribers, the Festival was their entry to news of what was happening in the world as well as their introduction to innovative and experimental art cinema from Europe and beyond. Roberto Rosselini's 1948 film Germany Year Zero premiered at the first Sydney Film Festival in 1954, unpopular commercial status despite then one of the biggest names in serious film.
In an oral history of the Festival for 40th anniversary booklet in 1993, Keven Barr, original committee member (1954 – 1957) and Festival vice-president from 1958 to 1960 remembered the multicultural community that mad the early years of SFF successful: "Getting such an audience at the film festival; would mean you must draw upon other people in the community who see something In culture, in the films that were showing… a lot of Europeans would come along for films from Germany, Hungary, continental films. They would come to see those because they certainly wouldn't get released anywhere else around Sydney."
Major cinematic movements were accounted for since the very beginning of the Festival, including the various schools of Asian cinema ­– notably Japanese and Indian cinema – the French New Wave and the rising movements of filmmakers across Europe, with the avant-garde New German Cinema movement taking the Festival – and the world of arthouse cinema – by storm. Spearheaded by Rainer Werner Fassbinder, Werner Herzog, Wim Wenders, Margarethe von Trotta, Alexander Kluge, Jean-Marie Straub and Danièle Huillet, Volker Schlöndorff, Helma Sanders-Brahms and others, the movement lasted from 1962 to 1982 and returned German cinema to international significance for the first time since the end of the Weimar Republic.
In 1975, the Festival held it's very first of a series of "National Nights" with a salute to German (and French) cinema – in celebration of the existentialist tendencies of the New German cinema wave –titled "An Evening of German Cinema", featuring the films of Alexander Kluge and Wim Wenders.
In 1977, the Festival held its first film forums – featuring a three hour session on New German Cinemma – and partnered with the Goethe Institute to create special programs, regular screenings of German films ("particularly those by filmmakers of the younger generation") and a tribute to the German film industry. That same year, the Festival's status as an internationally-renowned celebration of film was cemented when "when West German producers decided, as an [economic] measure, to cut back German representation in International Festivals from about 22 to about 7 in 1977 [and] Sydney was retained."
Read more about the history of German films at SFF in the Sydney Film Festival Living Archive.