A Deep Dive into the Freak Me Out Program
From freaky Frankenstein flicks to hell-raising imaginary friends, here's curator Richard Kuipers' take on
Freak Me Out
.
I'm freakin' thrilled to be back at the Sydney Film Festival Grindhouse (aka Event Cinemas 8 and 9, and Dendy Newtown) with the ninth Freak Me Out program.
The first and most important thing to say is a huge thank you to SFF audiences who've supported FMO in such large and enthusiastic numbers over the years. FMO has its roots in horror and its branches extend all the way to arthouse films from the outer limits.
These are exciting times for genre cinema. In 1995 horror movies accounted for about 4% of total film production. By 2016 that figure had risen to 12%. Horror movies have also lost some of the stigma that in the past relegated them to being a low-regarded part of the film industry. While I'm sure most horror hounds would never want their favourite genre to become too respectable, it is exciting to see classy items such as A Quiet Place and Hereditary (how did this not even receive any Oscar nominations?!) become huge critical and commercial success stories.
It's no coincidence that horror production has boomed in recent times. The escalating political, social and environmental fears we hold are the driving forces behind this upsurge. Alongside science-fiction, horror has always been the genre that speaks most powerfully about the real-life issues that give us sleepless nights. The boom in horror and fantasy film production has presented FMO with the best possible problem. The number of films viewed for selection has just about doubled in the past few years, making final program decisions ever more difficult. Long may this be the case!
All of which brings us back to what will unfold in FMO-land from June 5 to 16. I'm proud to present a collection that includes everything from blood-soaked splatter to poetic ruminations on the human (and inhuman) condition. Whether you're a returning viewer or buying your first ticket on this ride into the weird and wild side of contemporary cinema, FMO welcomes you with open arms.
Or stitched-together arms, legs and other body parts, in the case of Depraved. Our Frankenstein-inspired opening night attraction is written and directed by New York indie horror legend Larry Fessenden (director of Habit, 1995, and Wendigo, 2001; producer of House of the Devil, 2009, and Stake Land, SFF 2010) and attracted rave reviews at its March world premiere at What the Fest!? in New York. "Fessenden has crafted the best take on Frankenstein since Shelley herself," said Kat Hughes in The Hollywood News.
Depraved arrives 200 years after Mary Shelley attended that fateful gathering at Villa Diodati in Geneva with Lord Byron, Percy Bysshe Shelley and Dr. John Polidori. Fessenden has taken the essence of Shelley's gothic horror masterpiece and transported it to the streets, bars and warehouses of Brooklyn. Centred on a PTSD-afflicted ex-military doctor and his shady financial backer (named Polidori, no less, and wonderfully portrayed by Joshua Leonard), Depraved does so much more than simply re-imagine the famous tale in a contemporary setting. The relationship of this unexpectedly sympathetic doctor and his man-child creation is a potent parable about 21st century morality, politics and alienation.
Another type of father-son relationship is examined in Come to Daddy, the first film directed by Kiwi genre kingpin and FMO regular Ant Timpson. As producer and/or executive producer, Ant has brought The Field Guide to Evil and Turbo Kid to previous editions of FMO. His CV also includes the hilarious horror-com Housebound. Come to Daddy, which scored a stack of great reviews at Tribeca, tells the extremely strange, hilarious and touching story of Norval (Elijah Wood, in top form), a 35-year-old hipster and recovering alcoholic who was five years old when his father disappeared.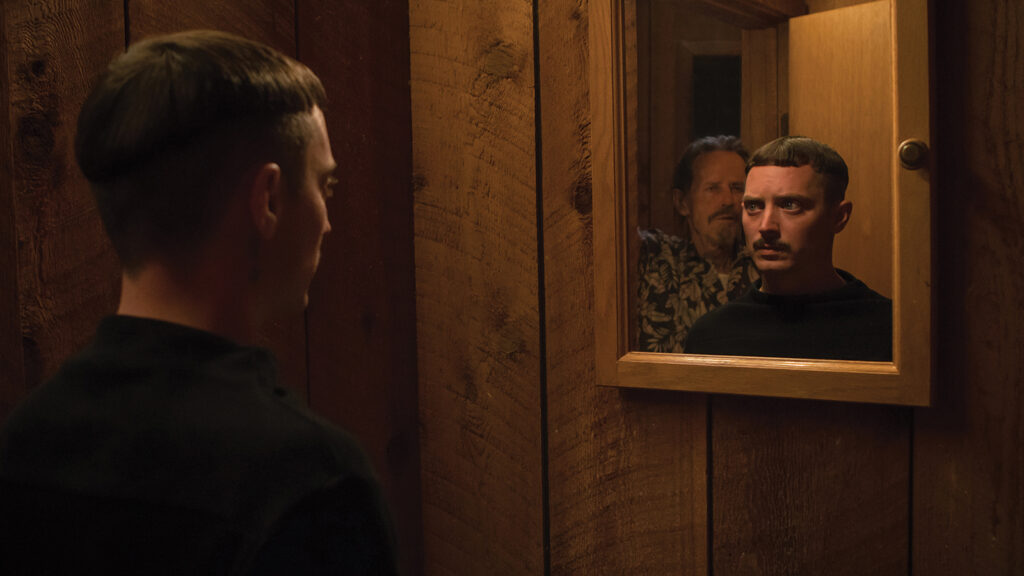 A heartfelt letter changes everything. Dad's sudden request for a reunion sends Norval to the middle of god-knows-where, and what happens after that is a secret we dare not even hint at here. What we can say is Come to Daddy marks an impressive leap into classy, slow-burn thriller territory for Timpson and features a great cast including Martin Donovan (lots of Hal Hartley films), Stephen McHattie ($alvation, Pontypool, The Fountain) and Madeleine Sami (The Breaker Upperers, SFF 2018). We're delighted to welcome Ant back to FMO as our guest.
It's also a thrill to welcome the creators of Dark Place, a World Premiere presentation at FMO. Dark Place is an anthology of five shorts by Indigenous Australian filmmakers and represents an exciting development in domestic genre cinema. Ranging from Björn Stewart's colonial-era zombie story Killer Native to Vale Light, a spooky tale of supernatural forces in suburbia by Rob Braslin, Dark Place delivers spine-tingling new perspectives on Australian history and horror. Please do come and meet the filmmakers at this special presentation.
New perspectives are powerfully on display in The Wind, a gothic Western mood piece by director Emma Tammi and screenwriter Teresa Sutherland. Sharing its title and a minimal amount of basic plot information with the 1928 Lillian Gish-starring, Victor Sjöström-directed classic, The Wind tips the traditional Western upside-down and shows frontier life through the eyes of a woman left to fend for herself during her husband's long absences. Caitlin Gerard's knockout central performance, stunning cinematography and Tammi's outstanding tonal control make this an elegant, thematically rich slow-burn horror to relish.
There's nothing slow-burn about Why Don't You Just Die! How could there be with a title like that. The stunning debut of 29-year-old Kirill Sokolov creates eye-popping mayhem from the moment it begins and doesn't stop until the last frame. It is potentially risky to say that Sokolov's mastery of cinematic technique and lacerating sense of humour is reminiscent of Quentin Tarantino. That's because almost every "Tarantino-esque" film falls way short of the mark.
Here's a fantastic exception. Sokolov adopts and adapts a century's worth of cinematic influences in this domestic drama gone-berserk while also stamping his own very distinct personality on proceedings. And let's not forget that Tarantino developed his trademark style by brilliantly meshing and mixing everything he loved most about movies from the past. Sokolov is no Tarantino wannabe. He's the real deal and I cannot wait to see what he comes up with next.
The same goes for writer Alice Sidgwick and director-cowriter Jack McHenry, whose first feature, Here Comes Hell, knocked 'em dead at Glasgow Fright Fest in March. The concept is so clever it's only surprising no-one thought of it before. Sidgwick and McHenry have dreamt up a simply smashing horror hybrid by lovingly recreating the look of a cheap British B-movie of the 1930s (or Quota Quickie, as they were known) and infusing it with the spirit and special effects of a modern (but not too modern) Evil Dead-style gorefest.
Pulling off such a task is no easy thing. For starters, performances and scripting have to be spot-on or the whole show sinks. Thanks to consistently funny dialogue and fabulous work by a terrific ensemble, Here Comes Hell delivers a simply irresistible combination of fizzy banter and over-the-top comic splatter. And it's in marvellous monochrome to boot. Hurrah, jolly hockey sticks.
Rounding out the FMO show this year is SXSW Midnighters-hit Daniel Isn't Real from SpectreVision, the ace production company behind Mandy, A Girl Walks Home Alone at Night, The Greasy Strangler and Bitch. This devilishly imaginative item is directed and co-written by Adam Egypt Mortimer (Some Kind of Hate) and based on the novel In This Way I Was Saved by Brian DeLeeuw (also co-writer of the film). Miles Robbins is terrific as Luke, a young man who witnessed a traumatic incident as a child and only had his imaginary best friend Daniel to confide in. That was before Luke's mentally ill mother (Mary Stuart Masterson, Fried Green Tomatoes) forced Luke to lock Daniel up in a dollhouse.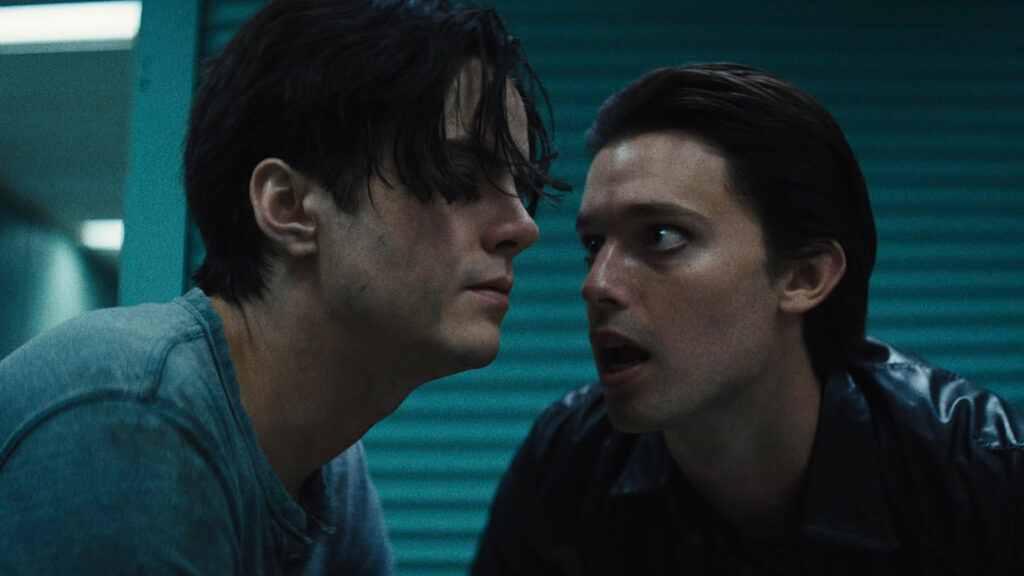 Daniel's re-emergence years later triggers a stylishly told psycho-horror with strong Faustian (and Freudian) undercurrents. Patrick Schwarzenegger (talented son of Arnold) is wonderfully sinister as grown-up Daniel, who carries the air of Patrick Bateman in his dress code and outlook on human relationships. Packed with arresting visuals and craftily edited to get the most out of the central "no-one can see Daniel except Luke" dynamic, Daniel Isn't Real is a mind-bending body horror of distinction and has a powerful emotional core that leaves a lasting impression.
For all your weird film wants, needs and secret desires, FMO is at your service.
See you in the Grindhouse!
Discover the whole Freak Me Out program at Sydney Film Festival.