Direct from its Cannes Un Certain Regard premiere, Moroccan filmmaker Asmae El Moudir's audacious feature melds fact, fiction and captivating figurines to lay bare a hidden personal and national history.
Asmae recreates the events around a government atrocity using doll-like figures, akin to Cambodian director Rithy Panh's 2013 Cannes winner
The Missing Picture
. But in this instance the focus is Morocco's 1981 Bread Riots. Asmae's father helps construct the scene, crafting a replica of the family's former home and environs, to creating models of family, friends and former neighbours. Asmae's mother provides support with needle, thread and fabric scraps. The finely detailed miniatures, and amusing juxtapositions of scale, create a place where memories can roam and long-held secrets can be revealed. Asmae's fearsome grandmother is mightily dismissive of the process, raging equally against her tiny replica doll and her granddaughter's ever-present camera. As recollections surface and terrible truths are revealed, the old woman remains stubbornly determined to leave history undisturbed, as all those around her confront the trauma of the past.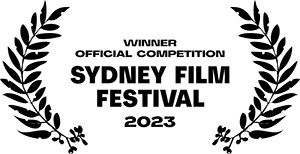 SFF Award Winners Encore Screenings
Due to huge demand, we're bringing back the award-winning films of the 70th Sydney Film Festival for an encore screening. Don't miss your last chance to see these SFF award-winning films on the big screen! Flexipasses cannot be redeemed for these special post-Festival screenings.
There are moments of celebration, some reconciliation, and even laughter. In some cases, there is comedy with tragedy.
Fresh, distinctive and very much its own entity.
Program Strand

Original Title

Kadib Abyad

Year

2023

Classification

Unclassified 15+

Country

Morocco, Egypt, Saudi Arabia, Qatar

Language

In Arabic with English subtitles

Director

Asmae El Moudir

Producer

Asmae El Moudir

Cinematographer

Hatem Nechi

Editor

Asmae El Moudir

Premiere

Australian Premiere

Genre

Documentary, Women Directors, Filmmaking, Middle East, Focus on Women, Cannes Selected, SFF Award Winner

Company Credits

Sales Agent: Autlook Film Sales